UGI SpecForce Command
General information
Type

Special Forces Division

Specialty

Special Forces Operations

Unit information
Base of Operations
Motto

"No retreat, No surrender"

Military Commander

Classified

Executive Officer

Classified

Equipment
Current members
Affiliation
UGI Special Forces Command is the Military division affiliated with all the Special Forces in the UGI. Every single branch in the UGI Military will send their best to SpecForce to be screened if they are capable of being part of SpecForce, as being in SpecForce you are no longer Navy, Marine, Army, nor Air Force.
Screening
Edit
When the Military branch a person is a part of they will send you to SpecForce command where they will screen you to see if you have not only the mental capabilities of being in SpecForce but as well as mental, and physical stamina. If you have all of these you will be inducted into UGI SpecForce.
Equipment
Edit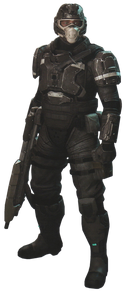 These soldiers are then equipped with gear that is superior to the rest of the UGI's basic soldiers gear. Its at least 7 years more advanced than the gear. It was built with a visor that turns from clear to black to hide the eyes, they do go through some augmentation but not like a Codex.
Created for one reason and one reason alone, to provide the UGI with the most elite warriors from each branch of the military from the top Air Force Aces, to the impossible to kill Marine Recon teams. They joined forces together to create an impossible to kill fighting agency. When they trained together they can all say that the went to Hell for basic training.