Harridan-class Heavy Cruiser
Product information
Manufacturer
Model

Harridan

Class

Heavy Cruiser

Technical information
Length

1440 meters

Width

340 meters

Height

190 meters

Mass

Classified

Max Acceleration

1550 mph

Stellar speed

1550 mph

Atmospheric speed

120 mph

Engine Unit(s)
Warp Drive

MKVI

Warp speed

8.9

Power output

800 Exawatts

Powerplant
Shield Generator

10 gJ

Hull

1 meter Derexium Plate Armor

Sensor Range

800,000 mi3

Targeting systems

11.2 miles

Navigation

Equipped

Avionics

Equipped

Countermeasures

Project Tetriac(Corporate War)

Armament

1 Heavy Plasma Cannon
45 Medium Plasma Cannons
8 Silos
120 Hydra Missiles
180 Plasma Point Defense Turret

Complement
Crew requirements

500

Skeleton Crew

120

Passengers

1800 Civilians or
2200 UGI Marines(Emergency)

Consumables

1.2 years

Other systems

Shield Disruptors

Usage
First usage

2309(UGI Time)

Role

Heavy Escort
Military Escort
Attack Vessel
Siege Vessel

Affiliation
The Harridan-class Heavy Cruiser is the standard class of Heavy Cruisers in the UGI. They replaced the Harita-class only two years after the Harita-class came out but there are still in use but they are ancient. The Harridan-class is extremely hard to kill and the Battleship was built to take down the Harridan-class but only 3 Heavy cruisers can kill a Battleship and it takes a battleship on average 1.2 hours to take down a Harridan.
Characteristics
Edit
The Harridan looks exactly like the Harita just with more advanced features such as Enhanced Shielding, with Photon Accelerator Engines, but more importantly thicker standard armor. The weaponry on this ship is also been updated with more and more powerful cannons, in fact its said that a Cannon on the Harridans can pierce the armor on an Extant though this was never successfully tested.
The aging Harita class needed revamping but instead the Harridan came in and was built off of the Harita, but with a new superstructure system implaced in it allowed the Harridan to take more then twice the beating of an Harita. This class during the Sorghelli War was crucial to the UGI's victory even though all of them were destroyed and the UGI was left with nearly nothing to defend its worlds.
Known Harridan-class Heavy Cruisers
Edit
The list continues on but these are the most famous.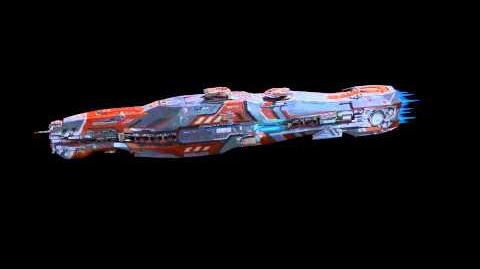 Ad blocker interference detected!
Wikia is a free-to-use site that makes money from advertising. We have a modified experience for viewers using ad blockers

Wikia is not accessible if you've made further modifications. Remove the custom ad blocker rule(s) and the page will load as expected.