Halberd-class Cruiser
Product information
Manufacturer

AUREC

Class

Escort

Technical information
Length

1300 meters

Width

750 meters

Height

400 meters(Hammerhead front)

Max Acceleration

700 m/s

Engine Unit(s)

8 Main Drives

Warp Drive

Equipped

Warp speed

9.999

Shield Generator

Eq

Hull

Deutronium

Sensor Range

Equipped

Targeting systems

Equipped

Navigation

Equipped

Avionics

Equipped

Countermeasures

Equipped

Armament

8 Heavy Plasma Cannons
12 Medium Ion Cannons
12 High Impact Railgun Emplacements

Complement

None

Crew requirements

1200

Usage
Role

Escort

Affiliation
The Halberd is ship that was built by AUREC terrorist that was to be used as its primary type of ship. It was no match for the UGI Heavy Cruisers, but they still pitted them against these ships. 
Characterstics 
Edit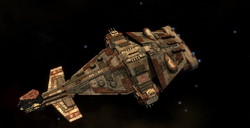 The ship is easily identifable due to its unique design and its bottle nose with winged neck as well as its vertical hammerhead front. This ship though poses a significant threat to smaller vessels but as an escort vessel it is one of the best AUREC built and for a reason. Its shielding is more advanced than Starfleets, but the design is entirely off.
During the Sorghelli War AUREC Terrorist pitted these ships during the war against the Sorghelli knowing full well everyone onboard would be killed in a matter of minutes. Though they used this ship to repay most of there debts even though they died as AUREC Terrorist they would be honored for the sacrifice they did in the name of the Taiidans and the galaxy.
Ad blocker interference detected!
Wikia is a free-to-use site that makes money from advertising. We have a modified experience for viewers using ad blockers

Wikia is not accessible if you've made further modifications. Remove the custom ad blocker rule(s) and the page will load as expected.