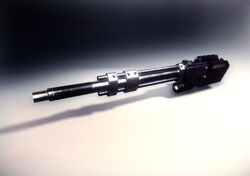 The GAU-011 Ballista is a heavy and fast repeating vehicle weapon that fires heavy Pulse bolts that tear through bunker doors. It fires at approximately 500 rpm's and is the heaviest vehicle weapon mounted on a aircraft as its primary weapon. Having auto-lock capabilities and auto-tracking it will fire at the closest enemy and can deterimine UGI troops from the enemy thanks to a sub-dermal tattoo on each UGI soldier. 
Ad blocker interference detected!
Wikia is a free-to-use site that makes money from advertising. We have a modified experience for viewers using ad blockers

Wikia is not accessible if you've made further modifications. Remove the custom ad blocker rule(s) and the page will load as expected.