Arcadia
Astrographical information
Moon(s)

Tritus

Gravity

Normal

Diameter

31,000 miles

Day Length

27 hours

Year Length

380 Days

Atmosphere

Nitrox/Hydrox

Surface temperature

69 o

Population

70,000,000

Notable Facts

UGI Capital in Pegasus Galaxy

Species
Government
Arcadia is the UGI capital world in Pegasus, it is an Earth like world and is beautiful. Its located in the Arcadian Region of space. 
Discovery
Edit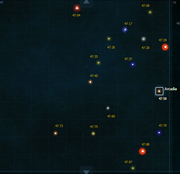 The planet was chosen based on inital scans and due that it had naturally occuring Derexium underneath the crust and mantle the UGI colonized the world immediately. The within 7 weeks the UGI colonized the entire region(depicted).
The planets beauty surpassed anything the UGI has ever built including Arcadia City.  The city was built with its idea to not harm the enviroment and it is entirely sustaining itself.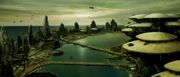 Ad blocker interference detected!
Wikia is a free-to-use site that makes money from advertising. We have a modified experience for viewers using ad blockers

Wikia is not accessible if you've made further modifications. Remove the custom ad blocker rule(s) and the page will load as expected.