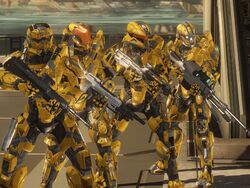 Amber Squad is a Black Codex II unit that specialized in orbital insertation each soldier is highly trained to do so even under intense fire. Created in 2607 they became one the best.
Operational History
Edit
Amber Squad was the only Black Codex II to have a perfect combat record. Even when they were outnumbered fighting Vahilr in the Pegasus they were the proud the few. Because of Amber from that day on they were called Spartans. Even a few from soldiers from Starfleet called them Odin son.
They would maintain their perfect combat record until they were all killed in battle in the defense of City of Vahalla.
Ad blocker interference detected!
Wikia is a free-to-use site that makes money from advertising. We have a modified experience for viewers using ad blockers

Wikia is not accessible if you've made further modifications. Remove the custom ad blocker rule(s) and the page will load as expected.